With the enormous growth of the internet (not to mention cell phones) in the past five years, print media has really taken the back burner. Everyone is wanting to be online—which is great, but what about the world of print? The folks over at USPS have taken matters into their own hands.
On May 17th of this year the Postal Regulatory Commission approved the Mobile Barcode Promotion, which will run from the beginning of July through the end of August. The promotion offers a three percent discount to businesses that promote the use of QR codes, on the inside or outside of their printed material, that is readable by any mobile device.
Side note: if you don't know what a QR code (short for Quick Response) is, it's like a barcode on steroids. They are customized to quickly and easily link content to smartphones. They're more useful than a standard barcode because they can store much more data, including url links, geo coordinates, and text. The other key feature of QR Code is that instead of requiring a chunky hand-held scanner to scan them, cell phones can scan them. Here is an example: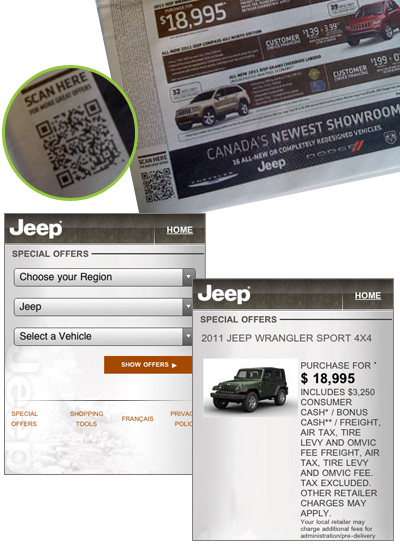 The USPS is wanting to make customers aware that mail still has a huge impact on campaigns and a whole new level can be reached by joining the online/mobile universe with the print world. Smart, right?! The combination of the two would be a such powerful way to utilize the newest technology and the most traditional form of marketing. Definitely take advantage of this promotion since it is only available for a limited time! We can help come up with the most effective print marketing solution for you. Give us a call!
Want more deets about the promotion? Visit https://ribbs.usps.gov/index.cfm?page=mobilebarcode